Vaccine Safety Health Link (VSHL)
Near real-time automated vaccine safety signal detection using routinely collected healthcare data
The Problem
In Australia, Post-licensure Vaccine Safety Monitoring (PVSM) relies on service providers and consumers to report adverse events following immunisation (AEFI) to their jurisdictional safety service. These methods are prone to underreporting and reporting bias. Reliance on these methods alone may delay the detection of potential safety signals or miss them entirely, resulting in the continued use of potentially unsafe vaccines.
What we're doing
VSHL links routinely collected healthcare datasets to interrogate new AEFI in near real-time, as well as performing regular rapid cycle analyses on identified adverse events of special interest (AESI) in NSW and VIC. Data is being linked from the Australian Immunization Register, hospital (VAED, VEMD, Sydney LHD), notifiable disease (PHESS, TREVI), primary care (POLAR, Patron), Births Deaths Marriages, and Perinatal Data Collection datasets
VSHL will provide outputs for analysis by vaccine brand, batch number, provider type and across populations (seen in design schema below).
Impact
VSHL will be the only data linkage system in Australia linking vaccinations with both primary care and hospital outcomes.
The linkage of routinely collected healthcare records will create a large and rich dataset that will enable epidemiologists to analyse a broad spectrum of rare, emergent, and serious adverse events which may otherwise go unrecognized by the current surveillance methods and to refute spurious concerns. This will encourage community and provider confidence in vaccinations with the knowledge that vaccine safety is being closely scrutinised and swift policy change can be enacted when safety signals do occur.
Consumer and Community involvement
As we look to encourage community and provider confidence in vaccinations, it is imperative to include consumers and the community in the research we do.
Taking on the advice of the NHMRC Statement on Consumer and Community Involvement in Health and Medical Research – the vision of this statement and co-authored by the NHMRC and the Consumers Health Forum of Australia (CHF) aspires "to see consumers, community members, researchers and research organisations working in partnerships, to improve the health and well-being of all Australians through health and medical research."
Consumers involved in the VHSL:
Dan became involved in VSHL as a member of the VSHL Steering Committee after he experienced an adverse event following his 2nd COVID-19 vaccine in 2021.
Unfortunately, Dan's experience with adverse event reporting was faced with many frustrations and challenges starting with the fact that his adverse effect wasn't reported by any of the medical professionals he's seen, so instead he did it himself. In the process realised he had zero visibility into how the submission of an adverse event was treated, collected, processed, and classified.
Rather than having this experience discourage Dan's involvement and confidence in the vaccination process, Dan joined the VSHL Steering Committee to ensure rigorous data management and public trust in the vaccination process.
Consumer feedback and quotes
"New generations of Australians approach essential aspects of life such as property, finance and health in new and sophisticated ways. I am one of them. For me, data and analytics driven insights build confidence and trust. Simply knowing that somebody out there is taking care of vaccine safety was a first level of relief. Learning that I can contribute to the dataset and soon might have more visibility and insight into how it all works provided me with a sense of control over the situation which was much needed during a time of complete uncertainty." Dan
"I am part of this project as a consumer belonging to priority populations with working experience within 220 cultures and 69 languages present in Victoria." Jac
Design schema and partners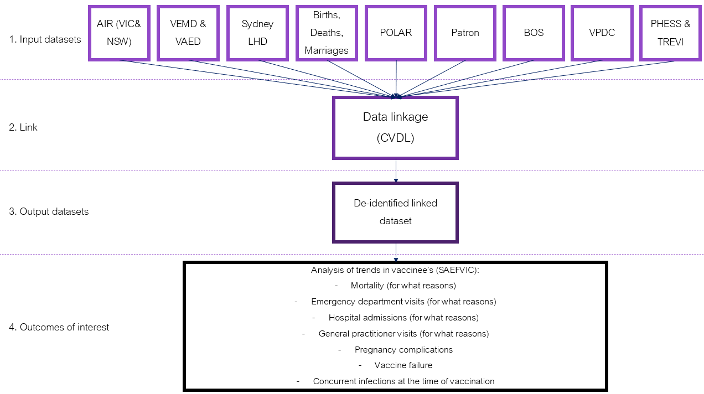 Contact
Professor Jim Buttery

Head of Infection and Immunity & Director of Research, MCRI

Ms Hannah Morgan

Epidemiologist, MCRI

Dr Aishwarya Shetty

Research Assistant, MCRI