SnotWatch
Mapping real-time respiratory microbiology information to inform health outcomes.
Background
Most hospitals and community pathogen providers in Victoria use pathogen molecular diagnostic tests that test for multiple potential pathogens for each sample. This has meant we have access to population level data regarding the distribution of many common pathogens across time and place.
We can de-identify and collate these data to improve our understanding of how tested pathogens circulate each year, as was done in Lin, C et al. 2020.1 Additionally, the global response to the COVID-19 pandemic demonstrates how PCR results can be used in conjunction with a range of geographic information systems to track disease spread in real time.2
You can follow SnotWatch on Twitter for updates on the project.
What we're doing
SNOTWATCH will use multiple hospital and primary care health data, to upload de-identified laboratory results in real time. This will create a large and rich dataset that will enable epidemiologists to analyse a broad spectrum of potential pathogens and corresponding patterns of healthcare presentations using spatiotemporal statistical methodologies with completely de-identified, non-linked data.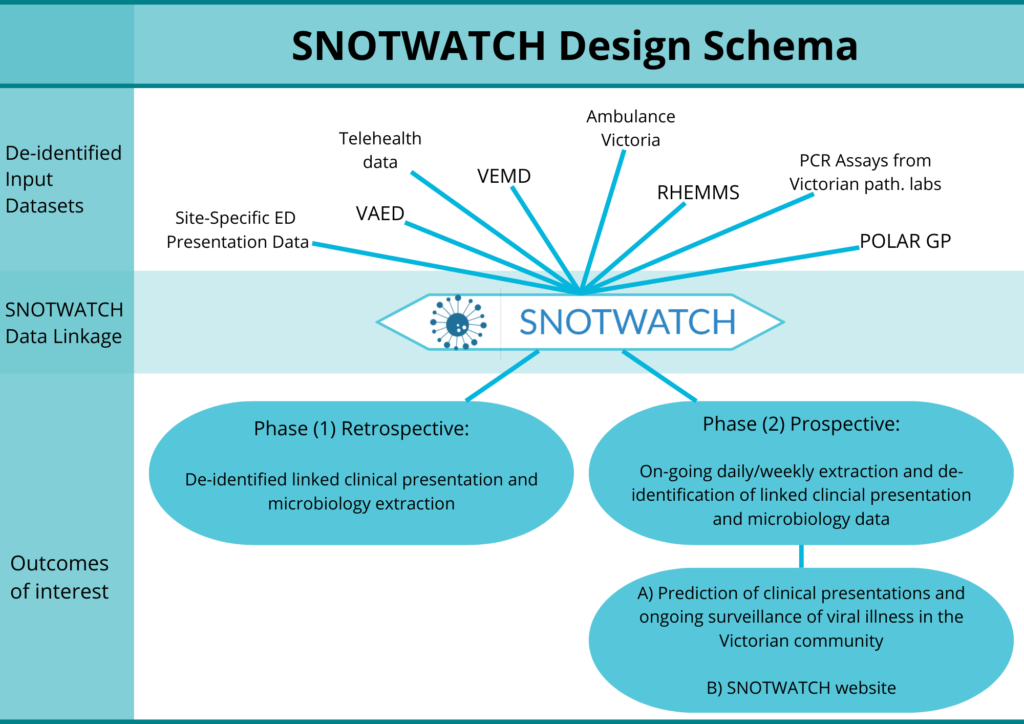 Impact
We will be able to:
reliably describe and predict the incidence of clinical presentations of interest and seasonal viral patterns in the community using an ecologic analysis framework
better define the relationship between viral circulation and childhood disorders like asthma, febrile seizures, and Kawasaki disease
develop a website for healthcare providers to provide the public with information about viral circulation and its clinical implications will be developed
Collaborative analysis with groups in different locations such as Queensland or Utah [USA] will compare observed viral incidence and related illnesses and assess the broader applicability of the SNOTWATCH framework.
Publications
Sawires, R., Kuldorff, M., Fahey, M. 
et al.
 Snotwatch: an ecological analysis of the relationship between febrile seizures and respiratory virus activity. 
BMC Pediatr
22, 
359 (2022).
DOI: 10.1186/s12887-022-03222-4
Contact
Professor Jim Buttery

Head of Infection and Immunity & Director of Research, MCRI

Ms Rana Sawires

PhD student, Monash University,

MCRI

Ms Deniz Akin

Research assistant, MCRI
References
Lin CY, Hwang D, Chiu NC, Weng LC, Liu HF, Mu JJ, et al. Increased Detection of Viruses in Children with Respiratory Tract Infection Using PCR. Int J Environ Res Public Health. 2020;17(2).
Kamel Boulos MN, Geraghty EM. Geographical tracking and mapping of coronavirus disease COVID-19/severe acute respiratory syndrome coronavirus 2 (SARS-CoV-2) epidemic and associated events around the world: how 21st century GIS technologies are supporting the global fight against outbreaks and epidemics. International Journal of Health Geographics. 2020;19(1):8.